Stop Press
Living with Strangers now released!
'This is an excellent debut novel, which should appeal to fans of Emma Donoghue among others. Set in the recent past (1963-78) its main themes are loss, and lack of communication between generations. This is a thought-provoking novel, and reading groups should find much in it to discuss. Readers who enjoy family dramas will find much to capture their interest in this work.'
Dorothy Calderwood
'I found it quite riveting and thoroughly enjoyed it. I couldn't put it down, so read it in double quick time. I wouldn't be surprised to see it as a film before long.'
Roy Eccles ..
'A moving and poignant story that kept me enthralled to the denouement – a 'Leonard Cohen Story'. Lovely descriptive vocabulary.'
Ian Mattingly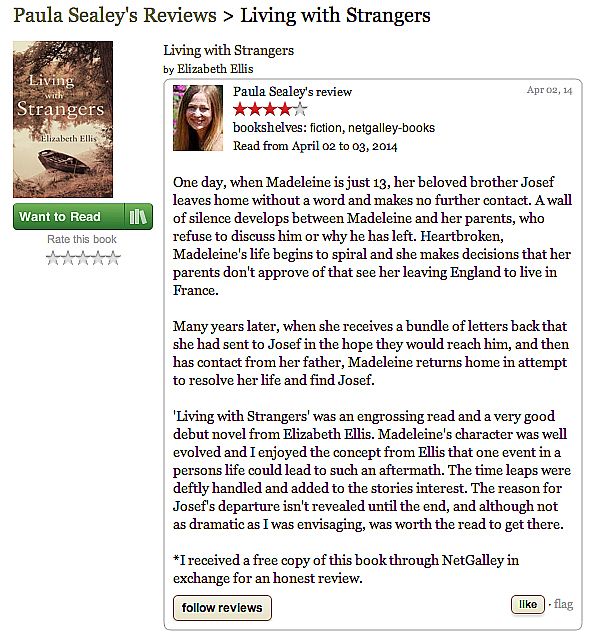 The debut novel from local author Elizabeth Ellis, Living With Strangers, is the compelling story of Madeleine, a young woman whose story is shaped by loss and rediscovery across the generations of her family.   The narrative shifts from the early 1960's to the late seventies, harking back to tragic events of the second world war.  Her journey takes us between England and France, Germany and beyond, crossing time and continents.
There are lucky times when I read a book and the characters in the story thrive in my head every time I am forced to put that book down.  The motivation, behaviour, destiny of each character lives on, and you find yourself caring for this stricken family.  Themes of separation and betrayal, family secrets festering and infecting everyone around, are dealt with confidently and with touches of humour and honesty.  It is thrilling to have the chance to read the work of a local author who can confidently create convincing characters in a vivid range of settings – Germany, France, London.  Anyone who enjoys an addictive and satisfying read will enjoy Living with Strangers, a story that remains with you long after the story reaches it's rewarding conclusion.
Vicki Maddren
An emotionally demanding but very absorbing read.
Hopefully the first of many.
Bridget Mattingly